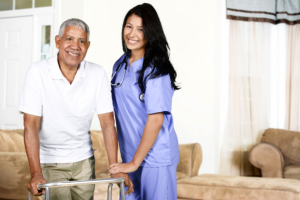 When staying at home is no longer safe or a viable option for you or your loved one, it may be time for you to consider moving into an Assisted Living Facility. Not sure where to start looking? Don't worry! At Care Senior Placement, we can help you identify the most suitable Assisted Living Facilities in Los Angeles, San Gabriel, San Fernando Valley, and Orange County that can meet your care requirements.
Basically, an Assisted Living Facility is an alternative housing option for disabled or elderly people who can no longer stay in their own residence. In an Assisted Living Facility, residents can receive the care and support that they need from qualified staff members who are available around-the-clock. However, please take note that senior living facilities and residential care homes can differ in the services that they provide. Some elder care facilities can only cater to seniors who are largely independent and only require minimal assistance; conversely, there are some facilities that provide a high level of assistance for those who are very frail and require special services, such as the memory care facilities.
Please Set An Appointment now so that we can have a more detailed discussion of your assisted living needs. For other concerns and inquiries, you may call us at 818-272-3380 / 818-568-8385.