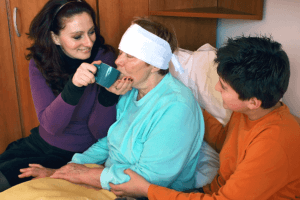 Have you or a loved one been diagnosed with a terminal illness with a prognosis of 6 months or less? At Care Senior Placement, we understand that this is a difficult time for you and your family, and we are here to offer you with our unconditional support. If the patient is no longer responding to curative treatment or if they no longer wish to continue it, we can help you find a Hospice Care provider who can provide the specialized care services that you need.
Essentially, Hospice Care focuses more on the patient's comfort and not on their treatment. Hospice care providers provide emotional support, psychosocial intervention, symptom management, family education, bereavement support, and more. Furthermore, it is important to note that hospice isn't just in support of the patient, but it is also designed to help their struggling family members. Hospice care is designed to improve the patient's quality of life and to provide support for their loved ones. Hospice can be provided in the individual's own home or whatever setting that best meets the patient's needs.
Are you interested in learning more about hospice care? Get in touch with us at 818-272-3380 / 818-568-8385 or Set An Appointment now.